Temperature and Humidity Transmitter
Main Feature
The temperature humidity Transmitter uses an integrated digital sensor as a probe, with a
digital processing circuit so that the temperature and relative humidity of the environment into the
corresponding standard analog signal, 4-20 mA, 0-5 V, or 0-10 V.
1. Top-quality Inductive Chip Sensor RS485 / Modbus RTU
2. Small size, Lightweight 
3. Simple Installation 
4. Installation methods, Suitable for Complex and Harsh Conditions Detection,
5. Accurate Measurement
6. Wide Range data can test
What is Temperature and Humidity Transmitter ? 
A temperature and humidity transmitter is a device that measures temperature and humidity
and sends the data wirelessly to a remote receiver or computer for monitoring or analysis.
It typically consists of two sensors, one for measuring temperature and one for measuring
humidity, housed in a single device. The sensors are connected to a microcontroller or
electronic circuitry that processes the sensor readings and transmits them wirelessly to a
receiver or computer. Temperature and humidity transmitters are used in various applications,
including meteorology, agriculture, HVAC (heating, ventilation, and air conditioning), and
environmental monitoring. They are particularly useful when it is not practical or possible to
physically connect a temperature and humidity probe to a computer or other device for
data collection.
Temperature and Humidity Transmitter

Application

 
Temperature and humidity transmitters can be used in various applications where it is
important to monitor and control the temperature and humidity levels. Some common
applications include:
1. Meteorology: Temperature and humidity transmitters can be used to measure and transmit
    weather data to understand better and predict weather patterns.
2. Agriculture: Temperature and humidity transmitters can monitor the conditions of greenhouses
    or other indoor growing environments, helping farmers optimize conditions for plant growth.
3. HVAC: Temperature and humidity transmitters can monitor the temperature and humidity levels
    in buildings, helping maintain a comfortable and healthy indoor environment.
4. Environmental monitoring: Temperature and humidity transmitters can monitor the conditions
   in natural environments, such as forests or wetlands, to understand and track changes in
    these ecosystems.
5. Museum and art conservation: Temperature and humidity transmitters can monitor the condition
    in museums and art galleries, helping preserve valuable works of art and historical artifacts.
6. Warehouse storage: Temperature and humidity transmitters can be used to monitor the conditions
    in warehouses, helping to ensure that stored items are kept in optimal conditions.
Anyway, temperature and humidity transmitters can be used to measure and transmit temperature
and humidity data in various settings to understand better and control the environment.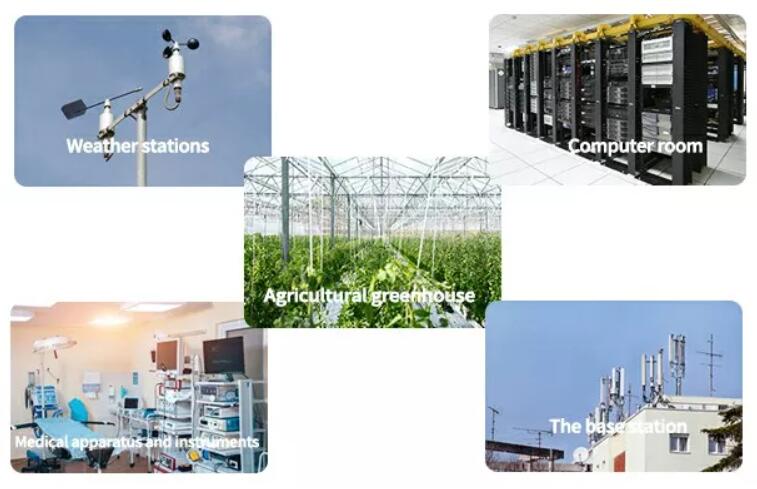 Why HENGKO Humidity 

Transmitter

?
Our 10+ years of hands-on experience in marketing Industrial humidity sensor manufacturers makes
us the expert on temperature and humidity monitoring systems. From selecting the sensor chip and
make-to-be Temperature And  Humidity Sensor and turning them into a sensor probe or humidity sensor
meter to marketing and shipping  worldwide, HENGKO is the trusted humidity monitor brand you
should to try. we can supply you as follow:
1. Quality Control :  All Temperature and Humidity Transmitters are CE and FDA approved. 
2. 100% Real Factory, Direct Factory Price 
    We are a direct Industry temperature and humidity transmitters manufacturer in China, which can give you
     a competitive wholesale price, OEM your brand etc
3. Top Professional Chip for Temperature and Humidity Sensing inside, stable performance to test.
4. Custom O.E.M Design
    We can provide custom humidity sensor design services for your style temperature and humidity sensor requirements;
    O.E.M is accepted. like some harshest environments, high temperatures over 200℃
5. Fast Delivery Time
We can deliver your O.E.M order within 30 working days and free samples within 7 days.
Faster checkout; we ship your order ASAP. 
Want to know temperature and humidity transmitter details?  You are welcome to send inquiry by
email ka@hengko.com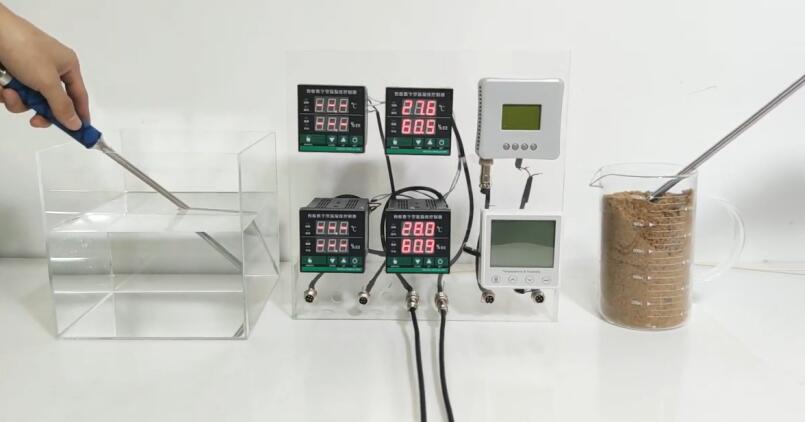 Hot to be HENGKO's Long-term Partner ?
1.  Sale Agent of HENGKO
       Welcome to apply sales agent of  HENGKO for your area or county. You will get better agent price
        and order to arrange Priority etc, contact us for more details about Sales Agent.
2.  O.E.M with your Brand 
        For Bulk Order,  or You have Your Own Electric Brand in the online or off line store, and also to You like to long-term
work with HENGKO, We'd like to O.E.M Temperature and Humidity Transmitter for your market. Help you to boost your
sales together.  
3.  End-User : 
     if you are lab or your projects need the detect the temperature and humidity, Welcome to contact us to order the 
Temperature and Humidity Transmitters With Factory Price Directly !     
Estimated Manufacturing and Shipping Times 
We work fast, and With the increasing number of customers approaching us, we have no other option but to prioritize speed
for manufacturing. Let's check the whole process of manufacturing and shipping : 
STEP 1 :  Materials
So far, we have a mature temperature and humidity sensing chip and circuit board system. We also have complete sets of
the temperature sensor housing, so the warehouse customized 1000 sets of raw materials to complete the order more quickly.
STEP 2 :  Packing and Boxing
The staff packs the humidity sensor products in cartons at the factory production line. They take a short time because it is
an easy task.
STEP 3:  Custom Clearance and Loading Time
The staff loads the products onto HENGKO vans, and drivers transport them to various dispatch points once cleared.
STEP 4: Sea and Land Transportation Time
Once the products arrive at their destination, you will receive an alert. You can plan how to collect your shipped goods on time.
6-Things You Need to Know Before Wholesale Temperature and Humidity Transmitter ?
How to choose a Temperature and Humidity Transmitter ? 
It may be one of the most complicated questions for some newbies or end users in the Industry Humidity Sensor. So maybe you
can read as follow checklist when order one Temperature and Humidity Transmitter :
1.)  To Confirm What is the Sensor Chip of the Transmitter because the CPU chip determines the
       precision and accuracy of your temperature and humidity sensor data. 
2.) The sensor probe is suited for your sensor detection environment, some Temperature And Humidity Transmitter is with 
low-quality sensor protector, and Some transmitters have a sensing head of just ordinary polyester material. Still, some
sensing heads cannot meet the requirements of filtering impurities in the air, leading to inaccurate detection data.
3.) The temperature measurement range should be confirmed -40....+60°. If you need a high-temperature or corrosive
environment, choose a high-temperature, corrosion-resistant sensor head, and humidity transmitter. Such as can load
-70 .... +180° sensor probe. Special need to confirm the sensor cover.
4.) For harshest environments, Maybe you should choose the solution of remote detection of temperature and humidity.
5.)  Also, for installation, you should confirm the best way to install your humidity transmitters. Normally, we can supply
Wall mounting, hanging, narrow space and pipeline installation, high-temperature and high-pressure installation,
high-pressure vacuum environment installation, pressure pipelines, etc., the requirements of different environments on
the installation will also vary.
6.) Other details of data about the transmitter, such as detection accuracy, detectable temperature, humidity, dew point range,
and whether the anti-reverse connection function, so please confirm details with our salesman before placing to order.
Also if you like to know details about What is Humidity Transmitter ? you can check the link to know about 
the Working Principle of Humidity Transmitter.

 
FAQ About Industry Temperature and Humidity Transmitter

 1. What is Temperature and Humidity Transmitter 
Temperature and humidity transmitters are temperature and humidity integrated probes as temperature measurement
components.
The temperature and humidity signals are collected after voltage stabilization and filtering, operational
amplification, non-linear correction, V/I conversion, constant current and reverse protection circuit processing, converted
into a linear relationship with the temperature and humidity current signal or voltage analog signal output, 4-20mA, 0-5V
or 0-10 V, can also be directed through the It can also be output directly through the master control chip for 485 or 232
interfaces. 
Widely used in communication rooms, warehouses, food processing, pharmaceutical products, medical experiments,
agricultural production and self-control, and other places that need temperature and humidity monitoring.
2. How does Industry Humidity Sensor Work ? 
    Firstly, Industry Humidity Sensor , also known as humidity Transmitter,  main to used to monitor the humidity
of the environment, now for most transmitter with temperature test integrated, but how does the industry
humidity sensor work ?    
Typically, humidity sensors contain a humidity sensing element and a thermistor, which is used to measure temperature. There are three main types of humidity sensors, each of which monitors small atmospheric changes to calculate humidity. These types include:
1. Capacitive humidity sensors
Capacitive humidity sensors are linear and measure relative humidity from 0% humidity to 100% humidity. They do this by placing a small metal oxide strip between two electrodes. As the level of humidity changes, the oxide's electrical capacity changes along with it.
2. Resistive humidity sensors
Resistive humidity sensors measure humidity by using ionized salts between two electrodes. The ions in the salts measure the electrical impedance of atoms. As humidity levels change, so does the resistance of the electrodes.
3. Thermal sensor.
A thermal sensor utilizes a dual sensor system to measure humidity. One thermal sensor is housed in a layer of dry nitrogen; the other freely measures ambient air. The resulting difference between the two measurements represents the air's moisture level.
A humidity sensor (or hygrometer) senses, measures and reports both moisture and air temperature.
Humidity sensors work by detecting changes that alter electrical properties in the air.
Check this video to understand the complete working principle of humidity sensors:
3. How to Test Dehumidifier Humidity Sensor ? 
Electronic sensors measure humidity by measuring the capacitance or resistance of air samples.
 Questions about manufacture and place a order:
Q1. Are you manufacturer or trading company?
--We are direct manufacturer specializing in porous sintered metal filters.
Q2. What's the delivery time ?
--Normal model 7-10 work days because we have ability to do the stock. For big order, it takes about 10-15 work days.
Q3. What is your MOQ?
-- Usually, it is 100PCS, but if we have other orders together, can help you with small QTY also.
Q4. What payment ways available?
-- TT, Western Union, Paypal , Trade assurance, etc.
Q5. If sample first possible?
-- Sure, usually we have certain QTY of free samples, if not, we'll charge accordingly.
Q6. We have design, can you produce as our design?
--Yes, welcome to send your design, so we can supply fast solution and process list.
Q7. Which market do you already sell?
--We already ship to Europe, Middle East, Asia, South America , Africa, North America etc.
For a capacitive hygrometer, the air flows in between two metal plates. The change in air moisture is
directly proportional to the change in capacitance between the plates. In a resistive hygrometer, a ceramic
or conductive polymer absorbs moisture, affecting its resistivity.
It is connected to a circuit where the moisture affects the material's resistance. The relative humidity is
then determined based on the change in current.
Hygrometers are often outfitted with a temperature sensor and a barometer which combine the temperature
and pressure data and the capacitance/resistance change to measure the humidity.
Still Have Question for the Temperature and Humidity Transmitter? You Are Welcome to Contact us
by email ka@hengko.com, Or Send Inquiry by Follow Contact Form.
Send your message to us:
Write your message here and send it to us