Sintered Powder Metal Filters
What is Sintered Powder Metal Filter and Features 
Sintered powder metal filters are a type of filter made by sintering, or heating, a mixture of metal powders 
until they bond together to form a solid structure. This process creates a porous material that can trap  
contaminants and other impurities, making it an effective filter for various applications.   
1. One of the key advantages of sintered powder metal filters is their high porosity. The pores in the filter
are very small, typically ranging in size from 0.2 to 10 microns, which allows them to effectively remove
a wide range of contaminants from liquids and gases. It makes them ideal for use in the automotive,
aerospace, and medical industries, where cleanliness and purity are essential. 
2. Another advantage of sintered powder metal filters is their durability. The sintering process creates a
strong, solid structure resistant to wear and tear, allowing the filter to withstand high pressures and
temperatures without deforming or breaking. It makes them suitable for use in demanding environments,
such as in engines or other high-performance machinery.
3. One of the challenges of using sintered powder metal filters is that they can be difficult to clean and reuse.
Because the pores are so small, removing trapped contaminants from the filter can be difficult, making it
necessary to replace the filter rather than clean it. It can be costly, especially for applications where the
filter is used frequently.  sure also have some method to clean. 
Despite this limitation, sintered powder metal filters are widely used due to their effectiveness and durability.
They are an essential component in many industrial and manufacturing processes, which help ensure the
purity and quality of liquids and gases. With their ability to trap a wide range of contaminants and withstand
demanding environments, sintered powder metal filters are an important tool for maintaining the performance
and reliability of machinery and equipment.
Why HENGKO Sintered Powder Metal Filters 
Supply Outstanding Filtration Solutions  
Our kinds of sintered powder metal filter solutions are outstanding in a wide variety of demanding applications;
porous sinter metal's unique properties are used in various high-pressure sparging equipment for a fine and
uniform distribution of gases into liquids.
Porous sintered powder metal filters, often with flow-optimized large area connectors, are used to separate
solids from gas streams in various processes. The Main features are as follows:
1. High-temperature resistance, Thermal stability up to 950°C
2. Suitable for high differential pressure
3. High corrosion resistance
4. Unique sinter bonded connector
5. Self-supporting structure with high mechanical strength
6. Excellent back pulse performance
7. No welding of porous media
8. Design flexibility, Various shapes available, and customize
9. Over 10,000 variety of standard and custom sizes/shapes are available
10. Main For homogeneous gas/liquid distribution
11. Adopt Food-class 316L and 304L stainless steel or bronze
12. Easy Cleanable and Reusable Materials
OUR Technical
As a top-quality manufacturer of innovative porous metal filter products, HENGKO offers state-of-the-art technology solutions
for high-temperature and corrosive environments.
Normally sintered powder metal filter elements are made of stainless steel, bronze, nickel-based alloys, and titanium and can
be seamlessly welded with some special alloys to customize to a different shape with a threaded connector or air nozzle.
Defined filtration by exact pore size distribution. 
Materials Option
HENGKO is available in a range of materials. The powder metal solution makes tailoring design and requirements to
individual process requirements easy.
Available materials: Stainless Steel (standard 316L), Hastelloy, Inconel, Monel, Bronze, Titanium, and special alloys on request.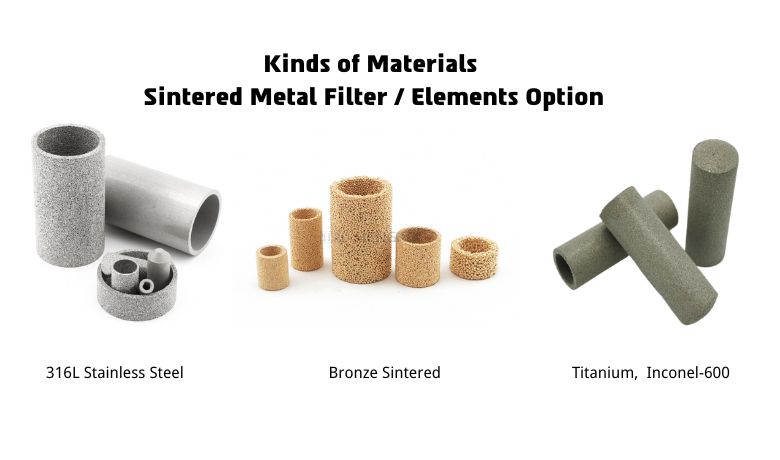 Applications
1. Gas Filtration
We supply multiple products and solutions for filtration of hot gases in industrial applications, and the operating temperatures
usually exceed 750°C for a long time. These filters most often function in systems equipped with automatic self-cleaning
capabilities, and the filter elements must be capable of full regeneration on each cycle. so the sintered powder metal filters
are the best choice, and all features can meet; that way, our porous melt filters are used increasingly in many gas
filtering industries.
2. Sparging
Much high-pressure equipment needs filter elements, such as gas-liquid contacting required for a reaction: stripping, mixing,
or diffusion. In many other applications, we help you maximize process efficiency by recommending and designing the best
suitable solution based on a large variety of available sparger units.
3. Liquid Filtration
We also offer custom-designed and self-supporting melt filter elements down to a filter efficiency of 0.1µm in liquid. The
sintered powder metal filters can be designed with a dual sandwich, and two sinter-connected powder grades offer
Consistent and homogeneous release and improve flow compared to conventionally designed filters. The sintered
porous disc is the perfect filter for processes involving a catalyst. Our sintered powder metal filter elements have a
lifetime that exceeds most competing solutions because of the no welding design with a "solid-solid" connection.
4. Fluidizing
We offer to customize fluidizing equipment for new and existing industrial systems by tediously controlling different
designs of filter manufacturing to ensure optimal gas distribution that results in perfect mass flow or mixing for many
different media, including bronze, stainless steel, and polyethylene. In addition, because fluidizing cones made of
stable sintered metal materials are usually self-supporting, we can usually supply filters with connecting flanges
as required.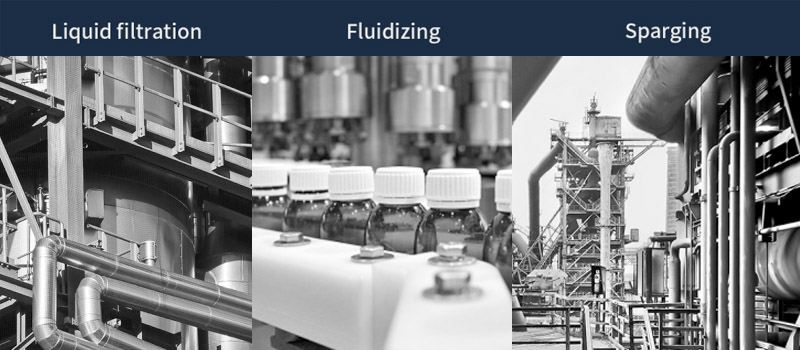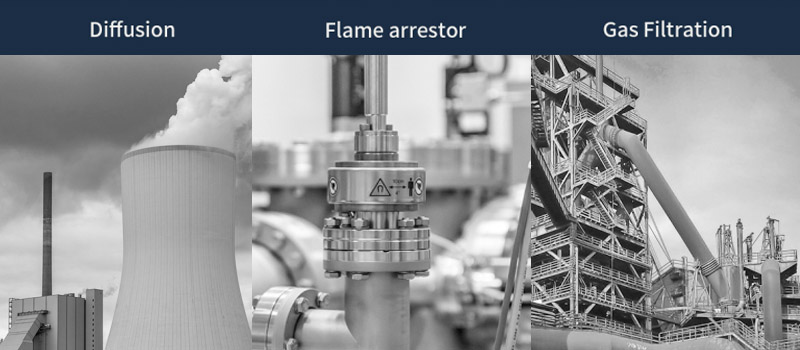 OUR Partner 
Till Now HENGKO have work thousand of companies from many industry included chemestry and oil, food, medical etc
Also many laboray of  companies and university for long-term partner supplier.  Hope you will be one of them,
contact us today if interested.

How to Customize Sintered Powder Metal Filters From HENGKO
When You have some Special Design Sintered Melt Filter for your projects and can not find the same or similar Filter
products, Welcome to contact HENGKO to work together to find the best solution, and here is the process of 
OEM Porous Melt Filter Please Check it and Cotact us talk more details. 
HENGKO is Dedicated to Helping People Perceive, Purify and Use Matter More Effective !  Making Life Healthier Over 20 Years.
1. Consultation and Contact HENGKO
2. Co-Development
3. Make a Contract
4. Design & Development
5. Customerappoval
6. Fabrication /Mass Production
7. Systemassembly
8. Test & Calibrate
9. Shipping & Trainning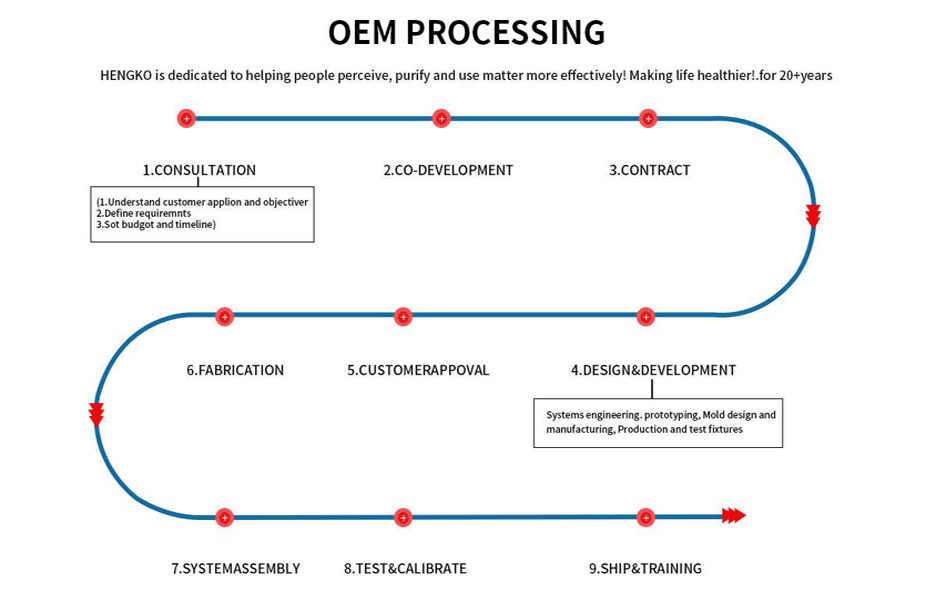 So what is your industry ? and do you have any questions about the metal filters and need us to deal with or customize
special porous metal filters for your device and machine?  Please just feel free to send us inquiry,  Our R&D team will
be able to provide you with fast and satisfactory answers.
FAQ About the Sintered Powder Metal Filters   
1. what is sintering in powder metallurgy ?
Sintering is used in powder metallurgy to convert metal powders into a solid, porous material. This process involves
heating the metal powders to a temperature just below their melting point, which causes the particles to bond
together and form a solid structure.
The sintering process is commonly used in manufacturing metal parts and components, such as bearings, gears,
and filters. It offers several advantages over other manufacturing methods, such as casting or forging, including
lower costs, greater design flexibility, and the ability to create complex shapes and structures.
During the sintering process, the metal powders are placed in a mold or die, which determines the shape of the
finished part. The mold is then placed in a furnace, where it is heated to a temperature just below the melting
point of the metal. As the metal powders are heated, they begin to bond together and form a solid structure.
As the metal powders sinter, the pores between the particles become smaller and smaller. It creates a porous
material that is strong and durable but also has a high surface area, which makes it ideal for applications such
as filtration and catalyst support. It can control the size and distribution of the pores by adjusting the sintering
temperature and time and the composition of the metal powders.
Once the sintering process is complete, the solid, porous material is removed from the mold and allowed to
cool. The finished part can then be machined or processed to create the desired shape and size.
Sintering is a versatile process that can create many metal parts and components. It offers many advantages,
including low costs, design flexibility, and the ability to create complex shapes and structures. As a result,
sintering is widely used in manufacturing metal parts and components in the automotive, aerospace, and
medical industries.
2.  Why is sintering important in powder metallurgy?
Sintering is an important process in powder metallurgy because it bonds the particles in a metal powder to
form a solid, cohesive material. It is done by heating the powder to a temperature below its melting point,
which causes the particles to bond through diffusion.
Sintering is important for several reasons:
1. It allows for creating parts with complex shapes that would be difficult or impossible to produce
     using other manufacturing techniques.
2. It can use to produce parts with improved mechanical properties, such as greater strength
    and hardness.
3. Sintering can create porous materials with a controlled porosity, which is useful for applications
    such as filters and catalysts.
The sintering process typically involves heating the powder to a temperature of around 80-90%
of its melting point under conditions of high pressure and a controlled atmosphere. It causes the
particles to diffuse into each other, forming a solid mass. The sintering process can be controlled
to produce a wide range of microstructures and mechanical properties, depending on the specific application.
One of the key advantages of powder metallurgy is that it allows for the creation of parts with complex shapes
and precise tolerances. It is because the metal powder can be formed into any shape using various techniques,
such as pressing and sintering. This flexibility allows manufacturers to produce parts with complex geometry
and precise dimensions, which is impossible with other manufacturing techniques.
In conclusion, sintering is an important process in powder metallurgy because it allows for creation of parts
with complex shapes, improved mechanical properties, and controlled porosity. It is a key step in the powder
metallurgy process and enables manufacturers to produce high-quality parts for various applications.
So if still have Any Questions and Interested for the Sintered Powder Metal Filters, You are welcome to
contact us by email ka@hengko.com and also you can send inquiry by follow inquiry form, we will send
back within 24-Hours.
Send your message to us:
Write your message here and send it to us