Air Muffler Silencer
For Air Muffler Silencer, What HENGKO Can Do For Your Devices ?
As a leading supplier of sintered melt filters, those years, many clients of HENGKO email and call to ask if we can make
customizable Air Muffler and Pneumatic silencers for their devices with sintered stainless steel filters or bronze assembly
with different shapes.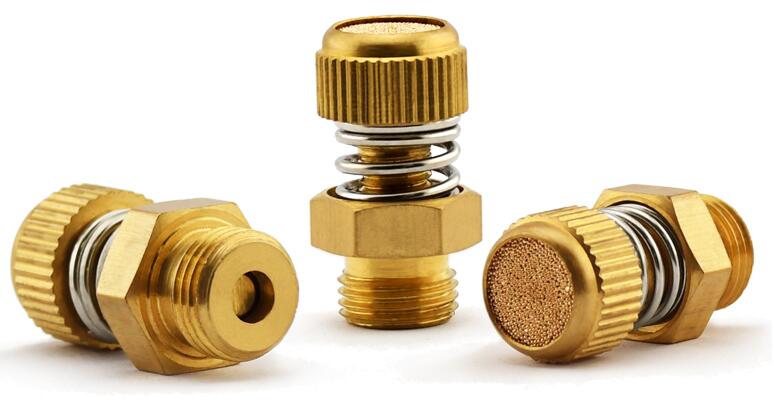 Until now, our OEM pneumatic silencers are working for many brands' pneumatic cylinders and long-term service. So
Welcome you with your stringent requirements applications for your devices. Our Team will supply fast solutions to fulfill
requirements for your cylinder or other new pneumatic systems device that need to control the flow or want to help your
exhaust ports of reducing the noise.
✔ Over 10 years professional Air Muffler and Pneumatic silencers manufacturer
✔ CE certification Bronze, 316L, 316 Stainless Steel powder filter materials
✔ Professional High-Temperature Sintered Machine and Die Casting Machine, CNC, etc
✔ 3 of over 10 years as engineers and workers in the Air Muffler Silencer Industry
✔ Materials Stock in to ensure fast manufacturing and shipping out
Features:
1. Air Mufflers utilise porous sintered Screen elements secured to standard pipe fittings.
2. These compact and inexpensive mufflers are easy to install and maintain, particularly suitable for limited space.
3. They are used to reduce the diffusion of air noise from the exhaust ports of valves, cylinders and pneumatic tools.
4. Maximum Pressure: 300PSI; Max Operating Temp: 35F to 300F.
5. Easy to install and maintain, particularly suitable for limited space. High noise reduction effect.
6. Widely used for Cylinders, Air cylinders, Solenoid valves, Crank cases, gear boxes, oil tanks, and Pneumatic tools.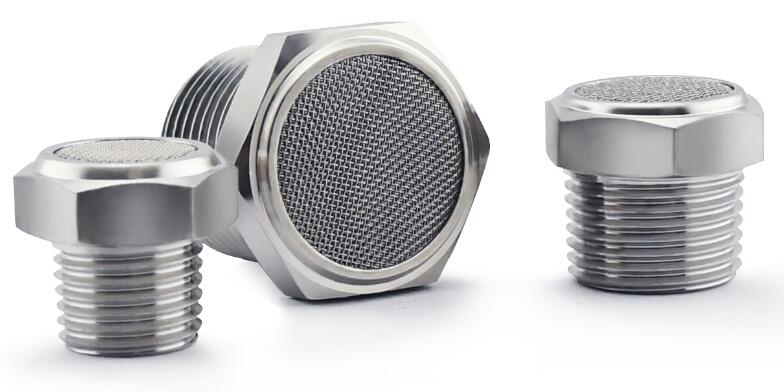 Main Applications of Air Muffler
They are used to diffuse air and muffler noise from the exhaust ports of many pneumatic systems.
1. air valves
2. air cylinders
3. air tools
to get an acceptable level within OSHA noise requirements. 
The application examples below commonly use pneumatic silencers. 
Packaging:
Pneumatics commonly makes use of on-product packaging machines to drive movement.
An arranging maker will typically draw away product based upon a signal from an industrial
controller. The signal from the controller is used to turn on a pneumatic device. As a result of
the high price at which packaging machines operate as well as the high quantity of workers
that are generally surrounding these makers, and a pneumatic silencer would be well fit for
the product packaging makers.
Robotics:
Robotics often utilize pneumatics to control motion or work on a ton. A robot arm, as an
example, makes use of pneumatics to regulate its activity. Changing on or off pneumatically-
driven valves will manage the motion of the arm. Robotics are typically used with workers,
so controlling the exhaust sound is essential.
Engeneered Solutions
Over the past decade, we have accumulated a wealth of experience designing and customizing air mufflers,
and I can customize the air muffler components for your equipment to help reduce noise and enhance the user experience.
Welcome to Share Your Project and Work with HENGKO,  We Will Supply Best Professional Air muffler Solution Based on
your device and project. 

How to Customize Air Muffler or Pneumatic Silencer from HENGKO 
When You got some high requirements design for air muffler and can not find the same or similar pneumatic silencer products,
Welcome to contact HENGKO to help you to find the best solution. Sure for OEM air mufflers, we have some processes you need
to know in advance, but we will try our best to supply results asap within one week normally. 
HENGKO is Dedicated to Helping People Perceive, Purify and Use Matter More Effective! Making Life Healthier Over 20 Years.
1. Consultation and Contact HENGKO
2. Co-Development
3. Make a Contract
4. Design & Development
5. Customer Confirmed
6. Fabrication /Mass Production
7. System Assembly
8. Test & Calibrate
9. Shipping & Installation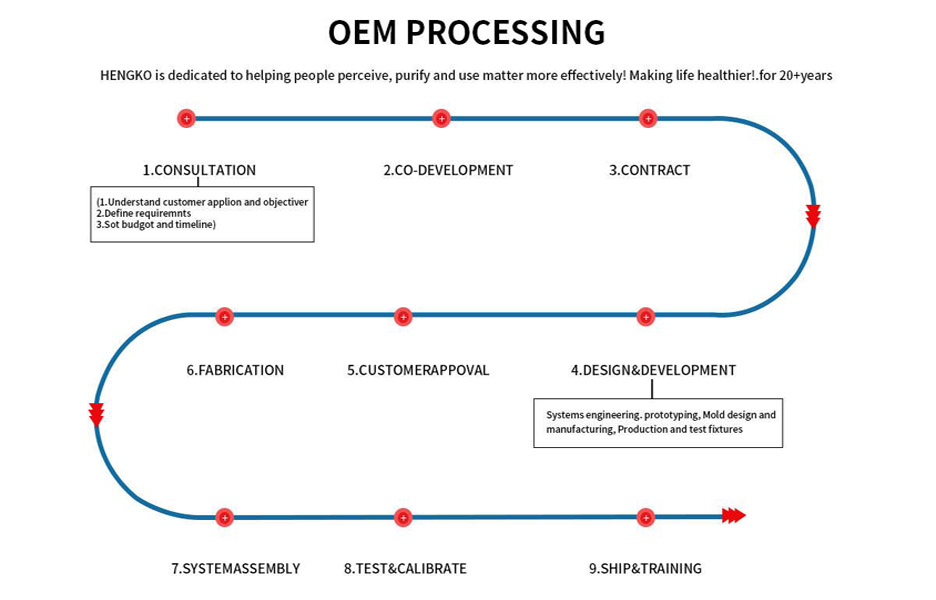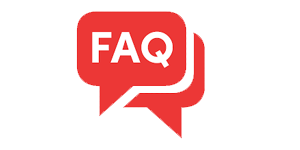 FAQ Guide of Air Muffler Silencer and Pneumatic Silencer :
What Does an Air Muffler Do? 
1. Provides up to 85% noise reduction and 94% flow factor 
2. Expertly reduces Exponentially Perceived Noise (EPNdB) without impeding equipment performance. 
3. Designed to take explosive air exhaust noise and muffle it with optimized Constant Velocity (CV) flow factor.
4. Exhaust air flows softly to the atmosphere free of noise, oil fog, and other contaminants – helping to maintain a
    clean, comfortable and productive work environment.
5. Features a unique obstruction-free expansion chamber with corrosion-resistant aluminium end covers,
    zinc-plated steel components and a cellulose fibre element.
6. Recommended for general purpose air exhaust applications for pressures up to 125 psi (8.6 Bar)
Does a Muffler Silencer Work?
 Yes, the answer is sure, you can image that when a voice from motor, We cover it with a stainless steel basin
because the sound we can hear will not be distorted. Then if we use a very multi-layer honeycomb container to
block it, it will come out of the sound. Please refer to the following video, and there will understand more. 
What is the Difference Between a Muffler and a Silencer ?
 Air muffler is the American term named the assembly that reduces the noise of the exhaust system of an
internal combustion engine. It is called a "silencer" in British English. Air Mufflers or Silencers are mounted
within the exhaust system, and they do not serve any primary exhaust function.
Why Should You Utilize a Pneumatic Silencer?
Including a pneumatic silencer on the exhaust port reduces the air flow rate. The pneumatic silencer
additionally brings down the decibels towards more secure degrees for workers as outlined by the
OSHA standards for sound at the office.
While silencers aren't important for an efficient pneumatically-driven system, noise control to secure
your employees is crucial in preserving security criteria in the work environment. Bringing continuous
noise degrees under appropriate levels described in the Hearing Conservation Strategy is an employer's duty.
Advantages of a Pneumatically-driven Silencer
1. It can give a considerable reduction in operational noise
2. It produces a safer atmosphere for employees based near pneumatic systems
3. It can minimize contaminants being released into the environment 
If you run pneumatically-driven systems often, tons of noise will be brought if you do not use a 
pneumatically-driven silencer. Reliable use of an air exhaust silencer will certainly benefit workers
operating in tandem with pneumatic systems, helping to avoid first job-related hearing loss and conserving their staying hearing.
Contact Us if Want to Get Solution Details for the Air Muffler Silencer or Pneumatic Silencer. 

 
Send your message to us:
Write your message here and send it to us