Gas Transmitter Assembly
Till now, more electrochemical technology for detecting a large number of gases.
To meet the needs of some industries and applications, we develop many kinds of
accessories such as sensor probes, detector housing and gas filter with different
pore sizes, and that If you ever have questions about whether our products can
meet your specific needs, 
please don't hesitate to contact us. Remember, we're with you each step of the way.

How Customize Gas Detector Gas Transmitter Assembly
When You have some Special Requirements about gas detector for projects and can not find the same or
accessories for the gas leak detector or housing products, You are Welcome to contact HENGKO to share your
specification details for the gas detector, So we can try our best to find the bettter solution for your proeject and
here is the process of OEM Gas Detector Housing or Probe and also the Gas Filter Disc 
Please Check it and Cotact us talk more details. 
1. Consultation and Contact HENGKO
2. Co-Development
3. Make a Contract
4. Design & Development
5. Customerappoval
6. Fabrication /Mass Production
7. Systemassembly
8. Test & Calibrate
9. Shipping & Installation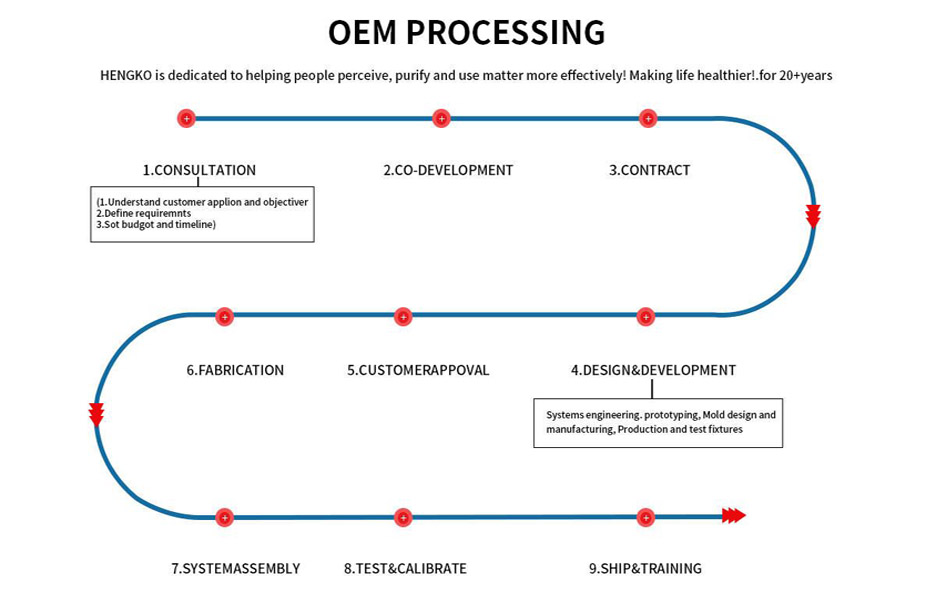 FAQ about Gas Transmitter 
1. What is a Gas Transmitter? 
Gas transmitters consist of an enclosure, sensor, and electronics that convert a signal from a gas sensor into an
analogue output signal. Electrical outputs for gas transmitters include analogue current, voltage, and frequency.
 2. How Does a Gas Detector Work?
Electrochemical gas detectors work by allowing gases to diffuse through a gas porous metal filter to an electrode
where it is either chemically oxidized or reduced. The amount of current produced is determined by how much
of the gas is oxidized at the electrode, indicating the concentration of the gas. then will be show on the display, and 
if the gas is over, the alarm will be triggered to sound。 
3. Is there a Device that Detects Gas?
Yes, sure Till now, more and more affordable options for confirming whether there are any leaks present in your
home or office space. 
The device includes a sensor tip for detecting natural gas, methane, propane, gasoline,
and other flammable gases; now, the best and 
most affordable is the handheld gas detector.
4. What is a Gas Sensor Called? 
Gas sensor (also called as gas detector) is a kind of electronic devices that detect and identify there
are some special gasses leak or over excess of a certain gas.
They are commonly used to detect toxic or explosive gasses and measure gas concentration.
So still have question for the gas detector accessories ?  
You are welcome to send email to ka@hengko.com directly. 
Send your message to us:
Write your message here and send it to us