Corrosion resistant microns 316L stainless steel porous sintered filter sheet/plate for chemical industry, pharmaceutical industry
Product Detail
Product Tags
Corrosion resistant microns 316L stainless steel porous sintered filter sheet/plate for chemical industry, pharmaceutical industry
Depth filter sheets are used to remove particles from liquids. This means that liquids can be clear-, fine- or sterile-filtered. Filter sheets are ideal for higher particle load filtration, where mere surface filters such as membranes do not provide enough life-time. With a thickness of 3 – 4 mm, more than 3000 times the size of a 1-micron particle, millions of microparticles can be trapped in every square meter of the filter area. Typically, filter sheets consist of a matrix of cellulosic or polymer fiber, enriched with minerals filter aids and held together with a resin binder.
Depth filter sheets are available in various grades for a wide variety of applications. The filter sheets show nominal retention rates from coarse (55 – 20 μm) to fine (15 – 1 μm) to sterile (0.6 – 0.04 μm). Therefore, they can be used for clarifying, fine and sterile filtration. They are available in all common sizes from 47 mm rounds up to 2.4 m × 1.2 m filter sheets. In between, practically all sizes are possible for all the different sheet filters available on the market.
During the filtration process, particles are slowed down within the filter sheet and eventually retained either mechanically by size or by electro-kinetic forces. Due to this effect, a long operating time can be reached before plugging and the depth filter sheets have a holding capacity of up to 4 l/m2.
Want more information or wouldl like to receive a quote?
Click the Online Service at the top right to contact our salespeople.  
E-mail:
                                     ka@hengko.com              sales@hengko.com              f@hengko.com              h@hengko.com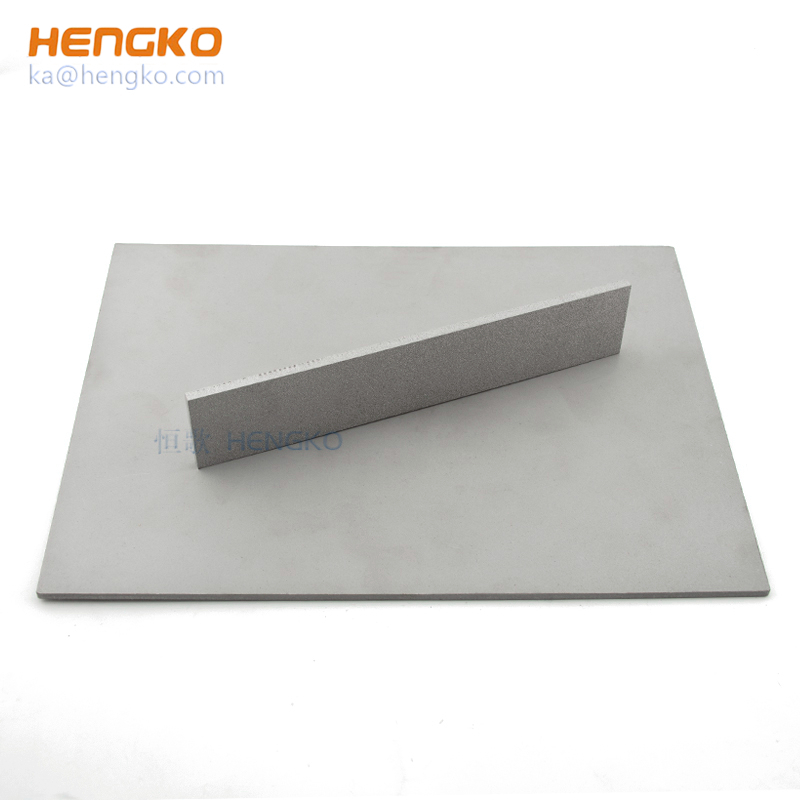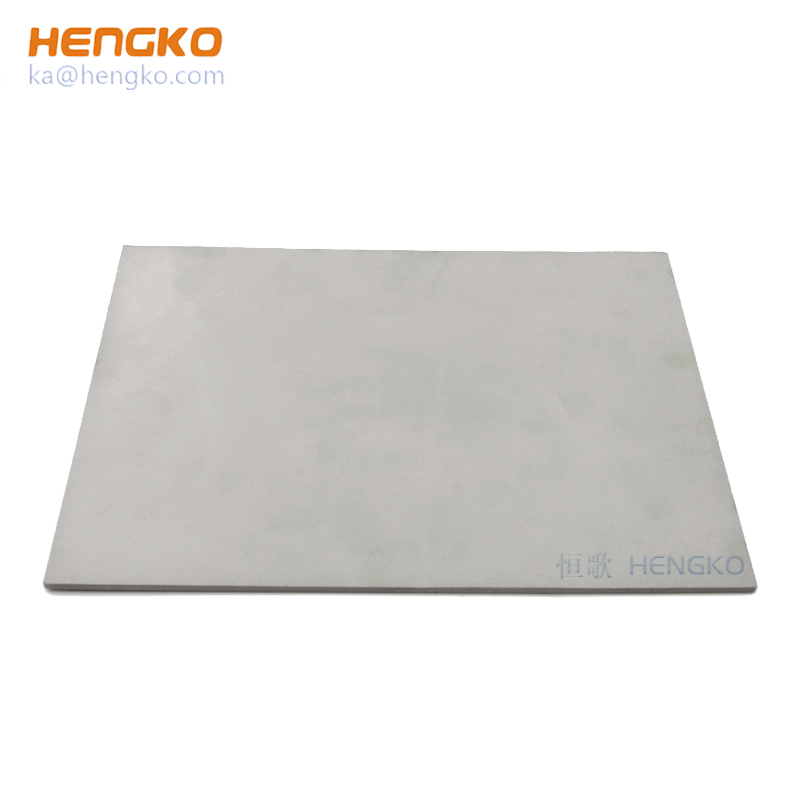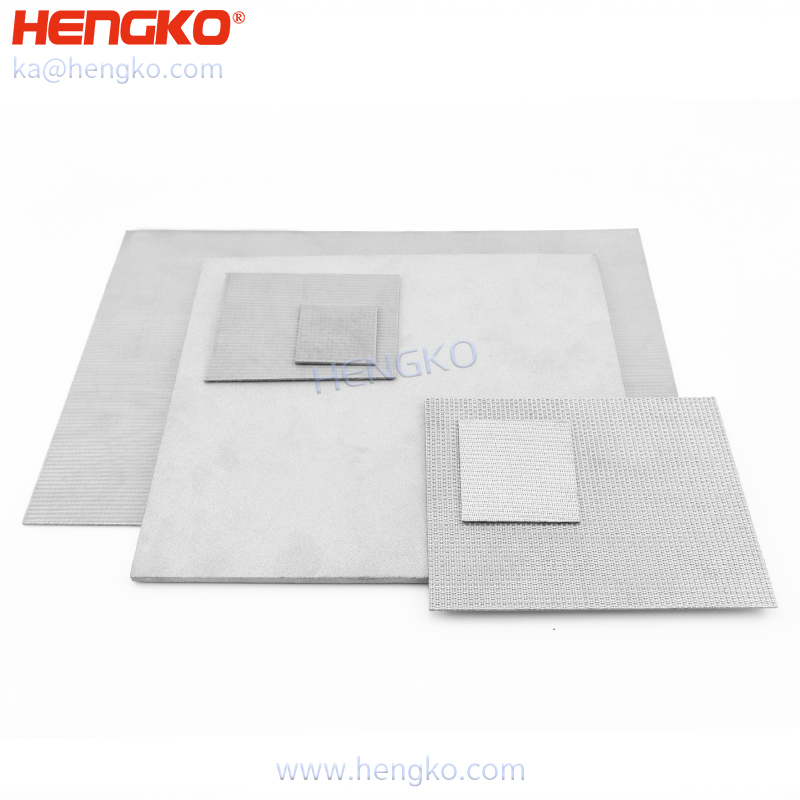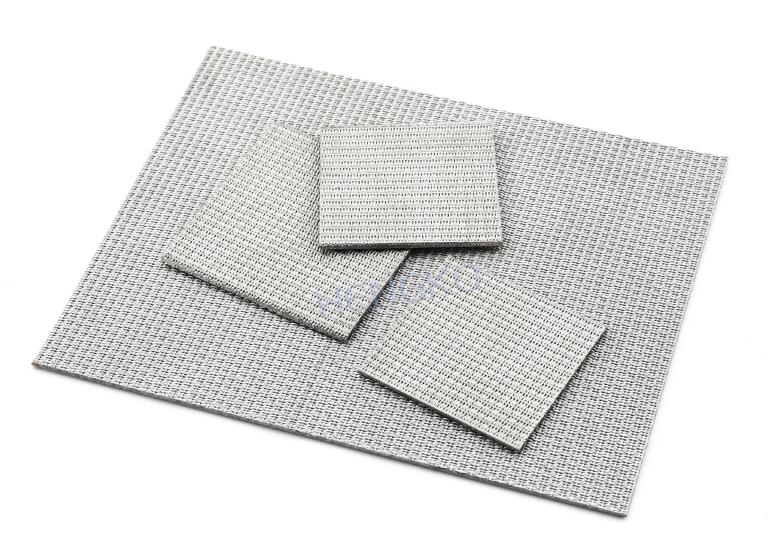 1. Accurate pore size, uniform and even-distributed apertures. Pore size range: 0.1um to 120 microns;
2. Good breathability, fast gas & liquid flow rate and uniform divergence.  it is far superior to other peer products with the optimization of special processes in HENGKO.
3. Good filtration dustproof and interception effect, high filtration efficiency. The pore size, speed of the flow and other performances can be customized as requested;
4. High supporting load capacity, no need to use other auxiliary supports, can be directly used as structural elements;
5. Stable structure, particles are tightly bound without migration, almost inseparable under harsh environment;
6. High fatigue strength and impact stress, high pressure resistant, suitable for applications with high-pressure difference and flow rate. Sintered porous stainless steel filter elements for long-term usage under high pressure fluid (40mpa) conditions are available;
7. Resistance to high temperature and heat shock. HENGKO stainless steel filter elements can operate at 600 degrees celsius, can withstand high temperature even in oxidized atmospheres;
8. Excellent functions of separation and noise reduction as a result of special multidimensional honeycomb nested capillary structure;
9. Different from other peers, HENGKO stainless steel filter elements haven't been corroded in a variety of environments. The performances of anti-corrosion and rust-proof are close to dense stainless steel products;
10. More than 10K product sizes and types to choose from, customizable as needed for stainless steel filtering products with multiple complex structures;
11. Tiny diameter( 5-20 mm), the length for long filter tube can be up to 800 mm;
12. The processable dimension for plate filter can be up to L 800 * W 450 mm;
13. The maximum diameter for disc filter can be up to 450 mm;
14. Exquisite product appearance will upgrade your product level and image greatly as apparent parts;
15. A variety of cleaning methods are available, strong regeneration ability after reverse cleaning, long service life.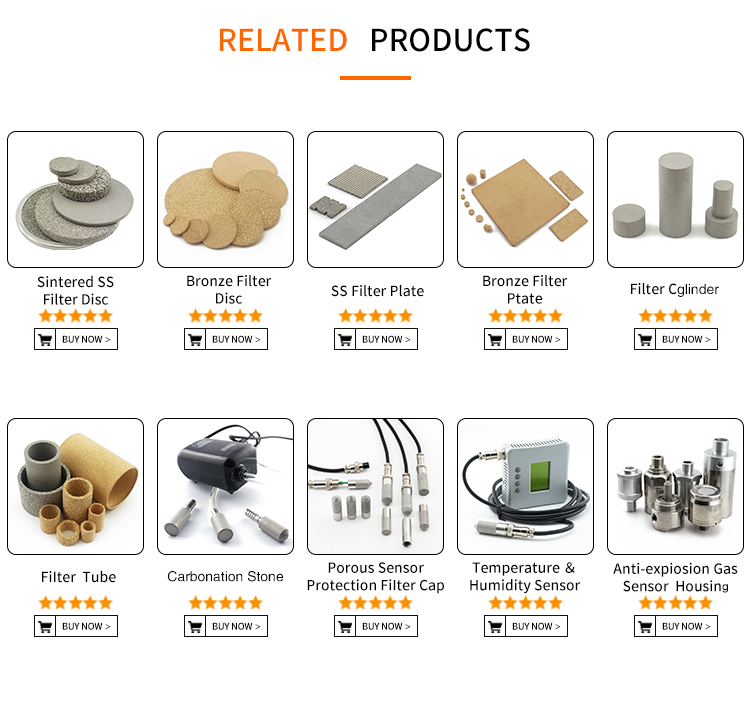 Q1. Why porous metal?
– Filtration systems using sintered metal media for gaseous, solid and liquid separation have proven to be an effective and 
efficient alternative to other separation methods that can be vulnerable to pressure peaks, high temperatures and/or corrosive environments. Sintered metal is highly efficient in removing particulates, delivers reliable performance, is easy to clean and has a long life in comparison with leaf filters, filter bags, plate and frame filters.
Q2. What kind of structures can you make?
– We make various types like disc, tube, cup, cartridge, plate, etc.
Q3. Do you provide customized services?
– Yes, of course.
Q4. If samples available?
–  Sure, no problem.
---
Previous:
Flow control and fluid distribution sintered filter plate/sheet, powder sintered porous metal bronze copper stainless steel meterials
Next:
5 10 25 micorns porous 316L stainless steel powder/wire mesh sintered metal refillable filter cylinder
---